Planning For A Long-Term Road Trip With A Dog
Our Experience Traveling With A Dog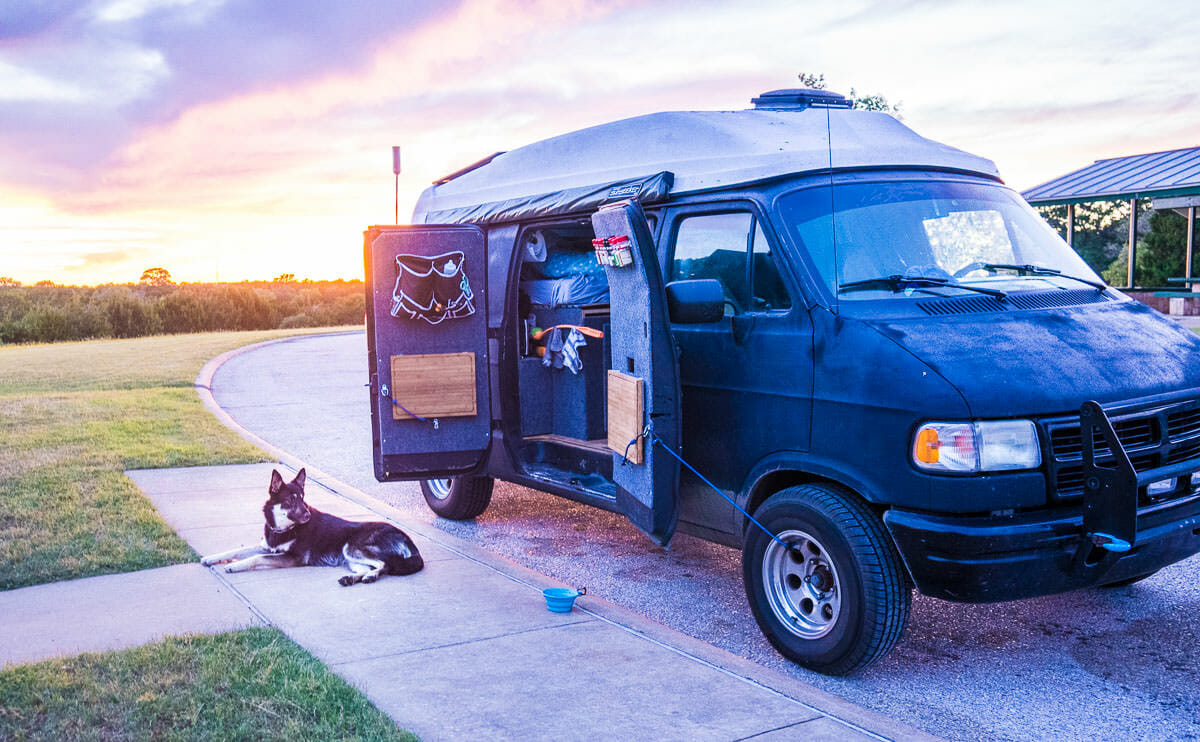 Traveling on the cheap? Not if you have to board your pup at $30 a day! For folks with furry family members, it is sometimes hard to find information on how to successfully travel with a dog. We are by no means dog psychology experts, but can offer what we've learned from van life with our dog to help you with planning for yours.
Preface: Note that our vandwelling style is similar to a cross-country RV trip. We live in the cities for a day or two then spend the majority of our time in dispersed campsites. Stealth living in a city full-time and working during the day has additional challenges and wouldn't be conducive to a happy dog with just these prep tips.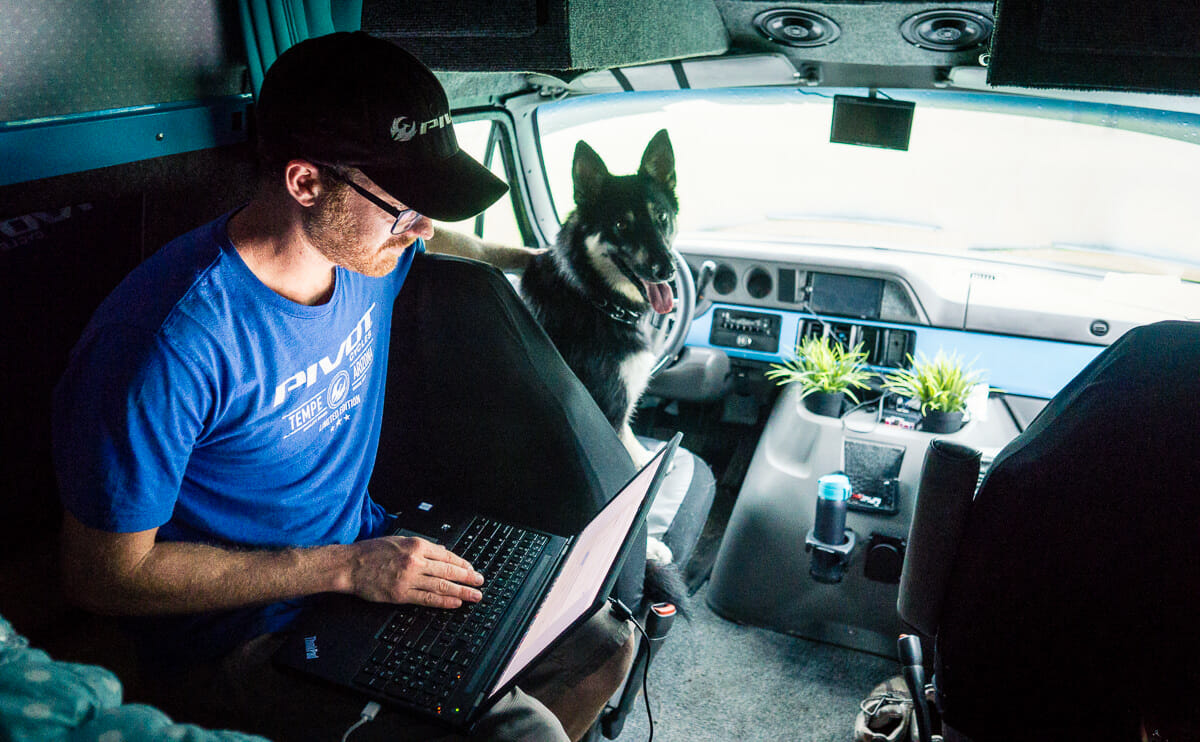 Preparing For Van Life
Travel Practice
Get your dog used to car travel if they aren't already. We started ours on short journeys to the dog park using the same loading routine each time. After she understood how to behave we followed up with several longer drives to camping trips in which she was rewarded with outdoor play. Bonus: we learned the hard way, if you don't want a mess, don't feed the dog just before a long drive!
Vet Trip
Get caught up on the shots! Don't forget about area specific meds like heartworm and tick prevention. Make sure to get vet receipts as those come into play later.
Van Alterations
By far the most important feature in our van is a vent fan that runs on the house batteries and solar. This is essential to be able to leave our dog in the van anything but a cool or cold environment. The other items that helped us was vinyl seat covers. The cloth ones are hair magnets.
Accessories
Along with the vet papers, we carry some extra accessories along with our dog. These are pretty self explanatory but might serve as a good jumping off point for other dwellers.
Food and Water: We doubled our water capacity and got some airtight food containers to store a 40lb bag of dog food. Waterbricks are great for this as they are portable, durable, and made in the USA.
Long and short leash:  Our short leash is nice for hikes and the long leash is used in more areas where dogs must be tied to something.
Toys: Usually we carry one at a time as more than that creates a slobbery mess. If your dog likes tennis balls, the Chuckit! is amazing as you can have a fetch session without getting your hands dirty (which is harder to clean up when out in the woods).
Treats: For when strange weirdos need to pet something or you need to reward good behavior.
Fur Brush
LED collar: Nighttime sanity includes knowing that the rustling bushes behind you is just an exploring hound and not a bear.
Food and water bowls: The collapsible style bowl works great for water because it allows us to hydrate her on hikes as well.
Window Sunshade: This greatly reduces the "greenhouse effect" and lengthens the amount of time we can leave the pup unattended.
Dog bags: These are cheap and essential to (pretending to) behave in public.
Old blankets and towels: Cold weather is easier to adjust for than hot, just like humans. Have a bunch of blankets on hand that you can pile on your little hound should the weather turn south.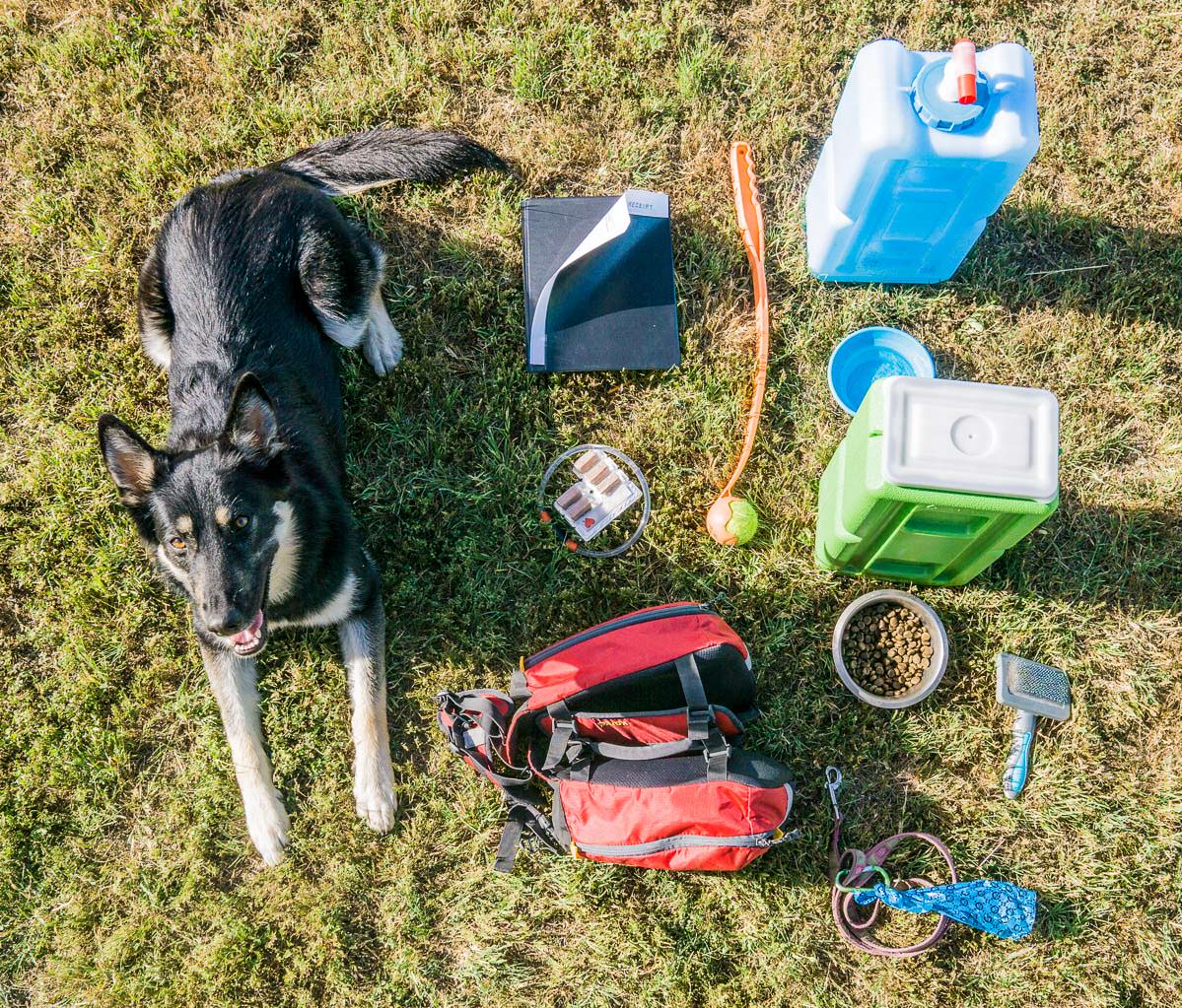 As far as preparation, that's about all that you're looking at! Then you can head over to our post about Tricks For Vandwelling With A Dog.